My husband and I were married on a crisp fall day in northern Michigan on a little island off the coast of Lake Huron called Mackinac Island. We planned our destination wedding in just 6 short weeks! I've listed our island vendors at the end of this post with links, along with bloopers from our big day!
There are many photos to enjoy along the way, so grab your latte, start some Michael Buble Love Songs on your Pandora radio, get comfy, and join me as I reminisce about our special day many Octobers ago…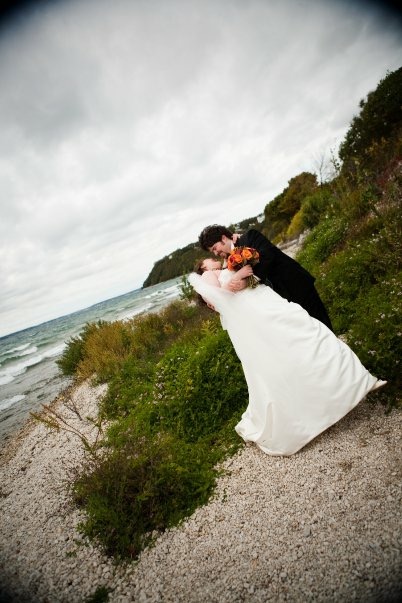 "Through the years I will walk with you, In deep green forests, on shores of sand. And when our time on Earth is through, in Heaven, too, you shall have my hand."
Mackinac Island is a little oasis where bicycles and horse carriages escort you from one shore to the next. It's a place where the scent of chocolate fudge fills the air; where ferries enter and exit the bay often bringing more guests from the mainland; a place where kites fly high above grassy lawns filled with Adirondack chairs, gazebos, & lilacs; & where history abounds with forts and cannons and stories from the War of 1812.
I had always dreamed of a destination wedding on Mackinac Island, but never thought it would actually happen. But, my dreams came true…
Planning Our Destination Wedding
Adam and I planned almost our entire wedding in a booth at the Melting Pot restaurant eating fondue one August day. I remember the feeling of my new diamond ring being a foreign, yet adored, feeling. I remember staring at it sparkling in the light of the restaurant, amazed that we were finally tying the knot.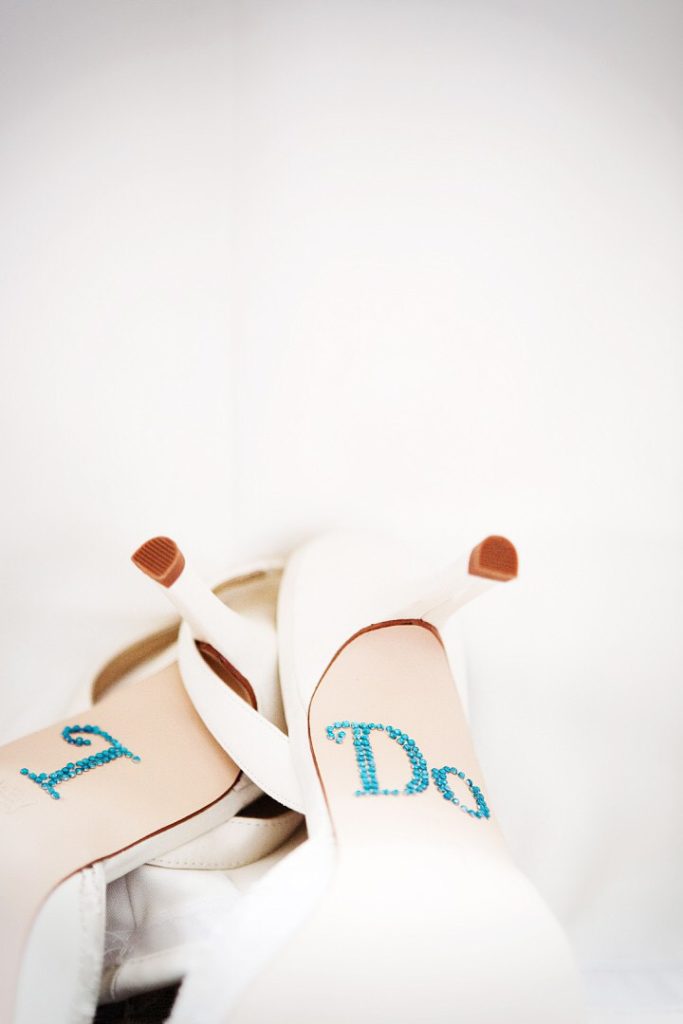 When we discussed what kind of wedding we wanted, we talked about how we pictured a small event…outside…in the fall….maybe a destination wedding? We weren't really sure if an outdoor destination wedding, in the fall, in Michigan was even feasible… or wise. But, we were willing to give a try.
We had already waited a long time to get married, and didn't really want a long engagement. The thought of waiting till the next fall to tie the knot seemed like forever away! So we took on the challenge of planning a wedding in less than 2 months! We must have been crazy! After talking with our families, we were all set to make it happen and plan our destination wedding/vacation.
My soon-to-be hubby had never been to Mackinac Island, so we had to made a quick trip "up north" so I could show him the ropes and get his "stamp of approval" on the destination I had dreamed of for so long. We rode on a horse-drawn carriage; bought chocolate fudge; ate lunch at the Pink Pony overlooking the water; explored the island; toured Fort Mackinac; & fell in love with that gorgeous island all over again. We had heard during that quick trip, that the wait list to get married on the island was 2+ years…and we were stunned. But, I wasn't going to give up that easily.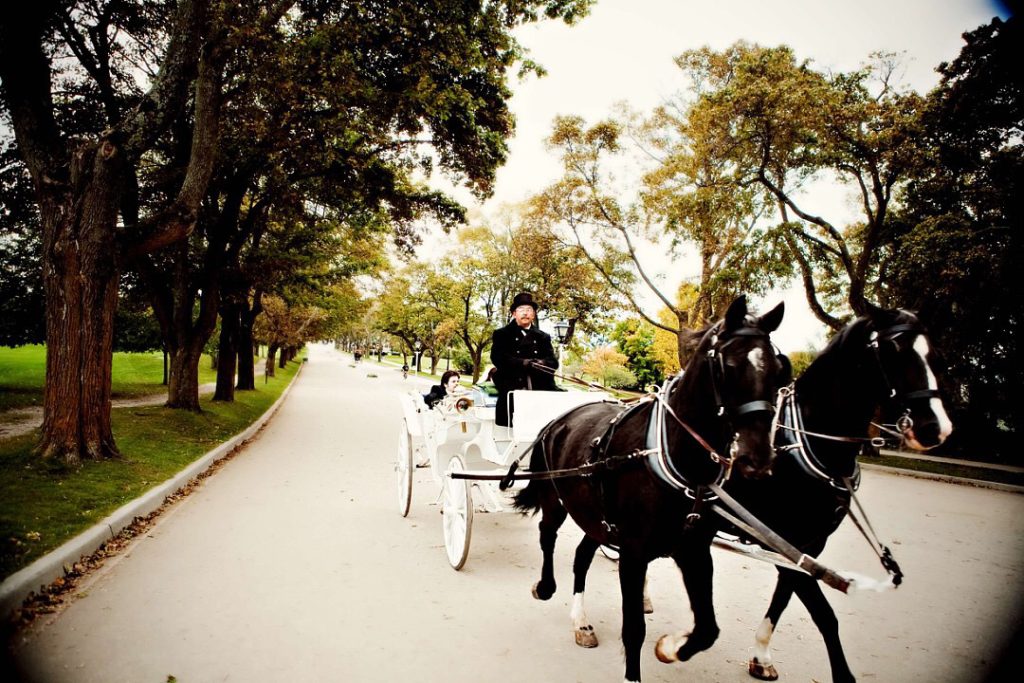 We picked a date that sounded good…October 8th. I'm really weird about dates and numbers & loved the sounds of that date. Kind of a weird way to pick a wedding date….but, to be honest, not much of what we do is normal anyways. ?
I called Mission Point Resort, my dream destination location…threw my desired date out there…& much to my surprise, it was available! I loved the lakeside gazebo, the gardens, and the Adirondack chairs (all things that screamed Pure Michigan to me). We couldn't have been more excited.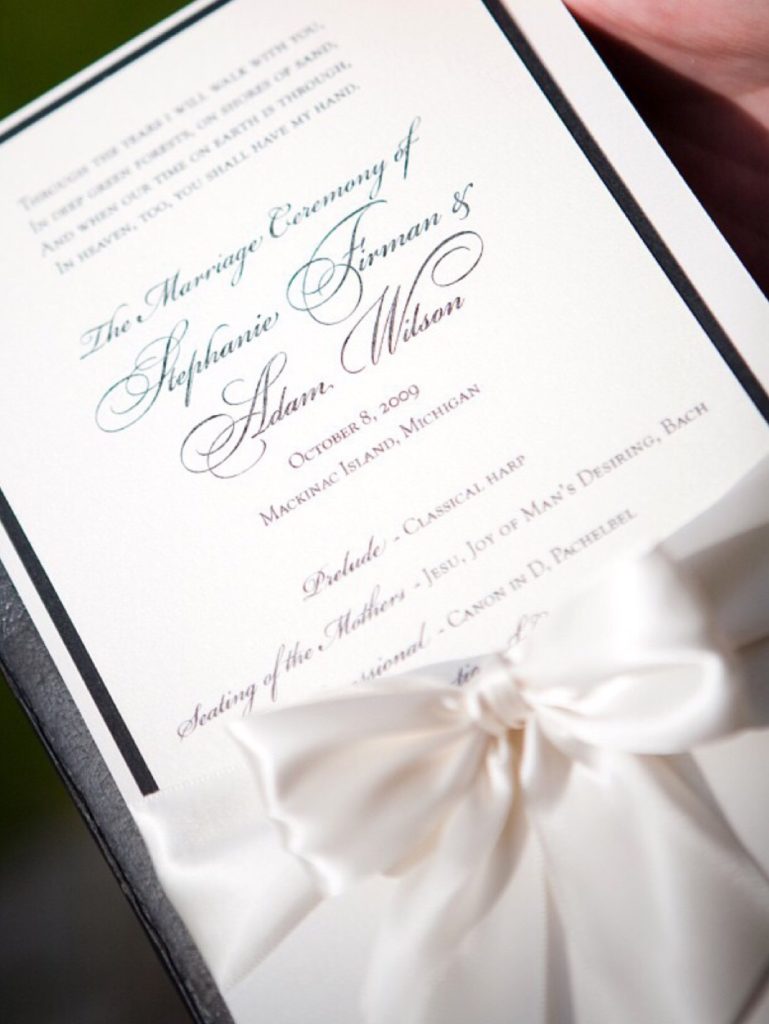 There in that booth at the Melting Pot fondue restaurant, we planned our ceremony; booked vendors; spoke with our wedding coordinator at Mission Point; & basically planned all the ins and outs of our big day. It could be done!
In less than 6 weeks we would be going with our families on a mini vacay to my favorite place in the world, and finally getting hitched. I'd dreamt of this day for 10 long years. Yes, you read that right…we dated for 10 years!! Holy Moly! We were certainly ready for this day to come!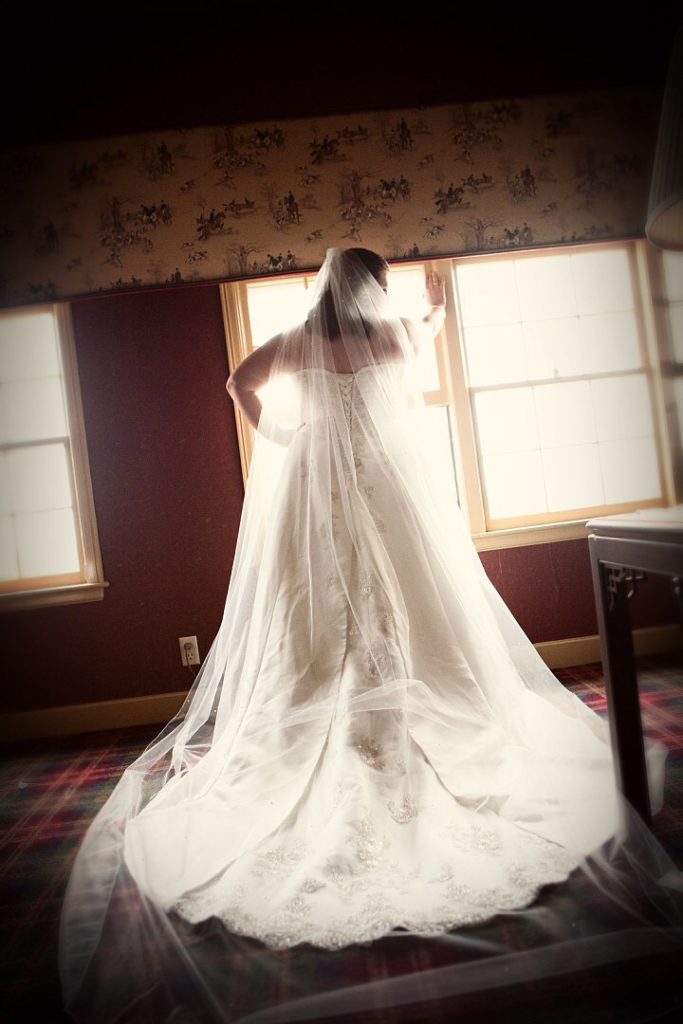 My Antique Lace Wedding Gown
The day approached very quickly. I found my wedding dress at David's Bridal, and was able to purchase it right off the rack…perfect for my time crunch! David's Bridal was the #1 place I swore I'd never buy my wedding dress from. It was almost sac-religious for me since I was a former bridal consultant who worked at high end stores selling Vera Wang, Eve of Milady, Demetrios, etc….but desperate times call for desperate measures!
My wedding gown fit my occasion very well. It was ivory silk satin with antique lace and metallic threading and beading….perfect for a fall wedding. I loved the lace inlay and scalloped edging on the train, and went for the big guns…& sprung for the messy French bustle & cathedral length veil strewn with pearls…which I loved!
Side Note: That veil became a thorn in my side on the wedding day. It's like it had a personality of its own. It wrapped itself around the minister during the ceremony, whipped my mother-in-law in the face, got stuck in some bushes along the shoreline during our photo shoot, & nearly tripped me during my big walk down the aisle! Good grief! It was trying to kill me, I swear! The stories are hilarious now, & it's shenanigans created some fun bloopers (keep reading!). I guess cathedral length veils and windy days don't mix!
Back to the dress…I could have driven myself nuts with trying on a hundred gowns, but once I honed in on the theme and feeling I was going for with my destination wedding, I was able to eliminate gowns that wouldn't be appropriate for my occasion…even though I may have loved them. Just a little former bridal consultant advice for you! Concentrate on the theme and overall look you're wanting to achieve and search for gowns that fit with your vision & your particular occasion.
(More wedding advice posts to come!)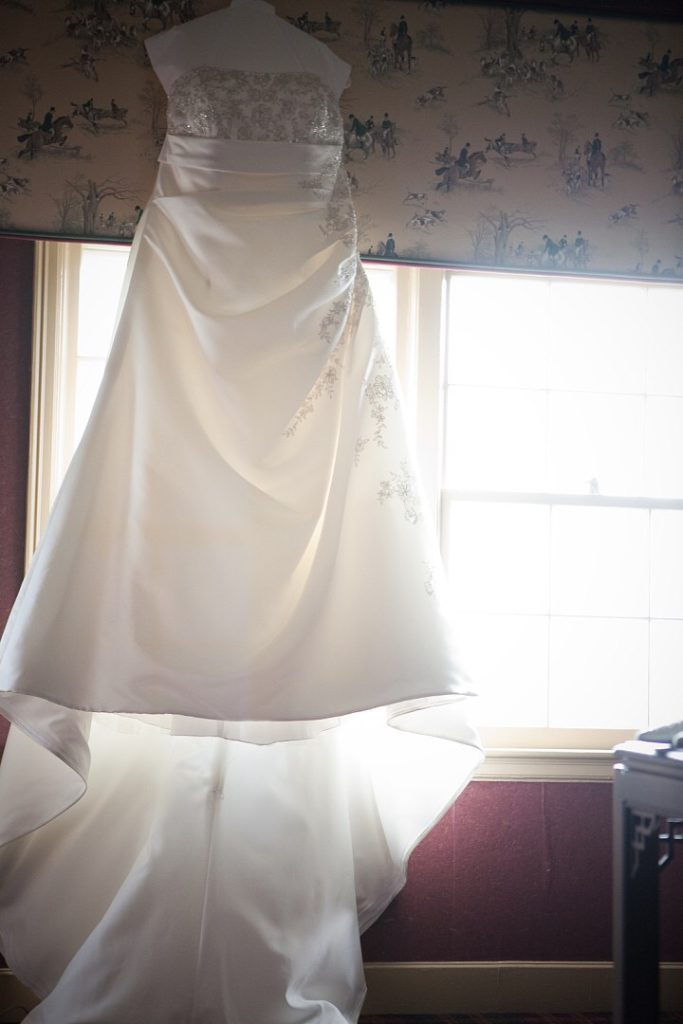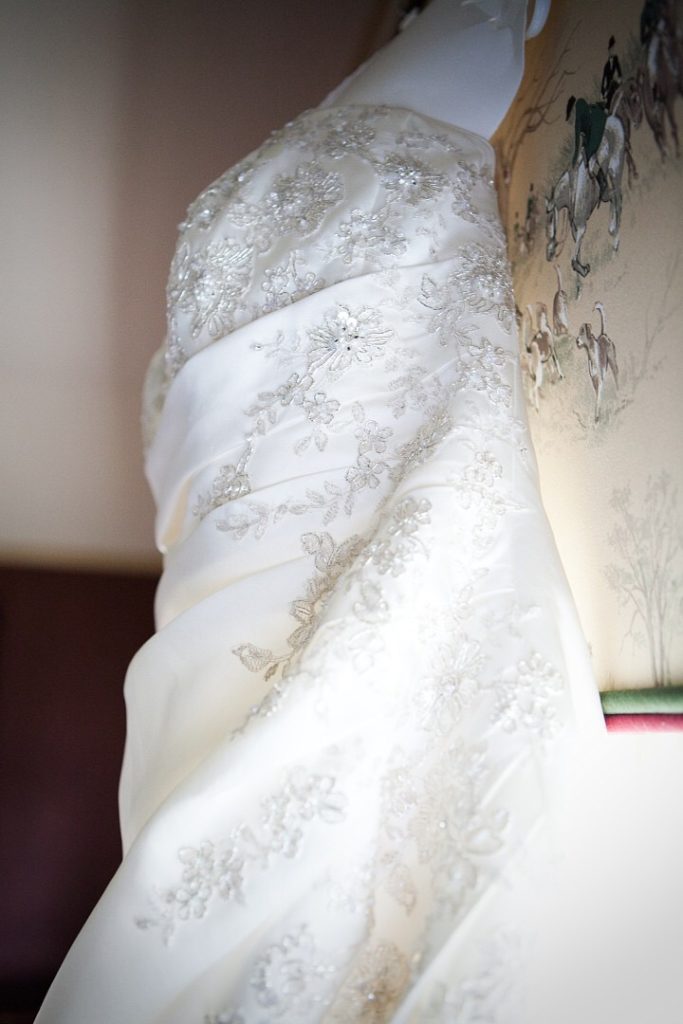 A Morning of Pampering & Preparing
The morning of our wedding, I woke up in the bridal suite to sunshine pouring in my windows and the beautiful view of Lake Huron just steps away. I was overjoyed when I saw the sunshine because just a day or two earlier when we met with our photographer to go over details, it was raining so hard it was literally pouring buckets & raining sideways. I've never been more soaked to the bone as I was that night, and I remember thinking, "I'm dragging all these people up to the island for this dream Pure Michigan Mackinac wedding, & all its going to do is rain…fabulous…just great."
So, the sunshine on the morning of our big day was such a blessing. I could finally breathe a sigh of relief! I had a quick visit with my little flower girls and ring bearer before heading to the spa for my hair and manicure appointment. It was such a relaxing morning. I got pampered and spoiled while sipping a latte (of course!) and staring outside at the beautiful water. Is there anything more mesmerizing than sunshine bouncing off the lake?! It was the perfect way to start the day.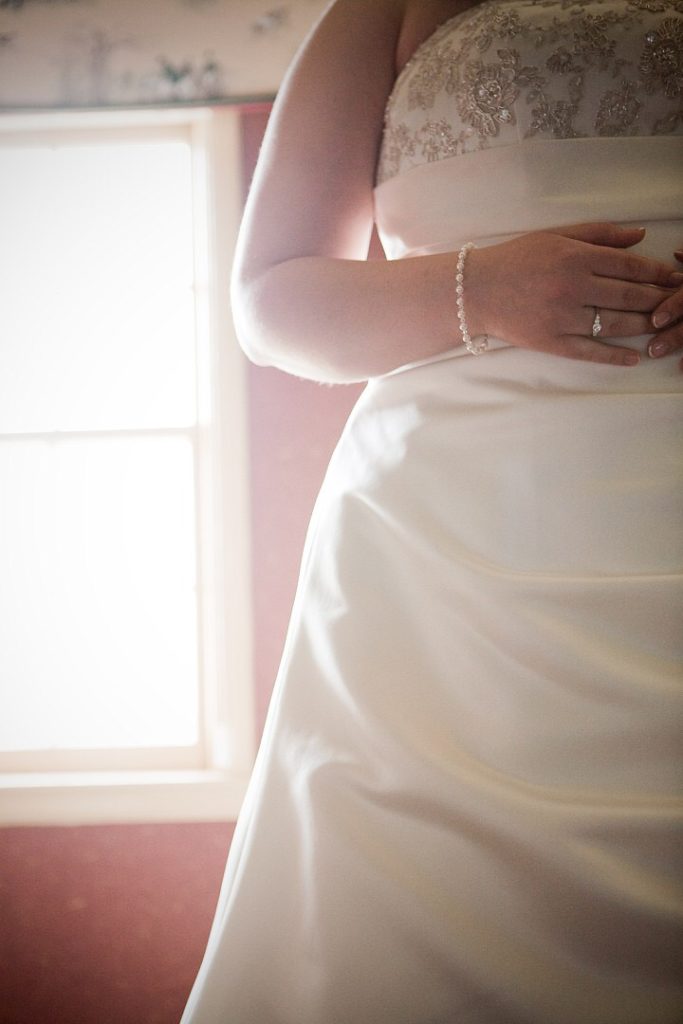 Our flowers were delivered via carriage from The Grand Hotel's florist….and they were perfect. They took my vision of little flower "balls" and my ribbon theme, & created the most adorable flower girl ribbon bouquets adorned with baby roses! Just perfect for my tiny flower girls.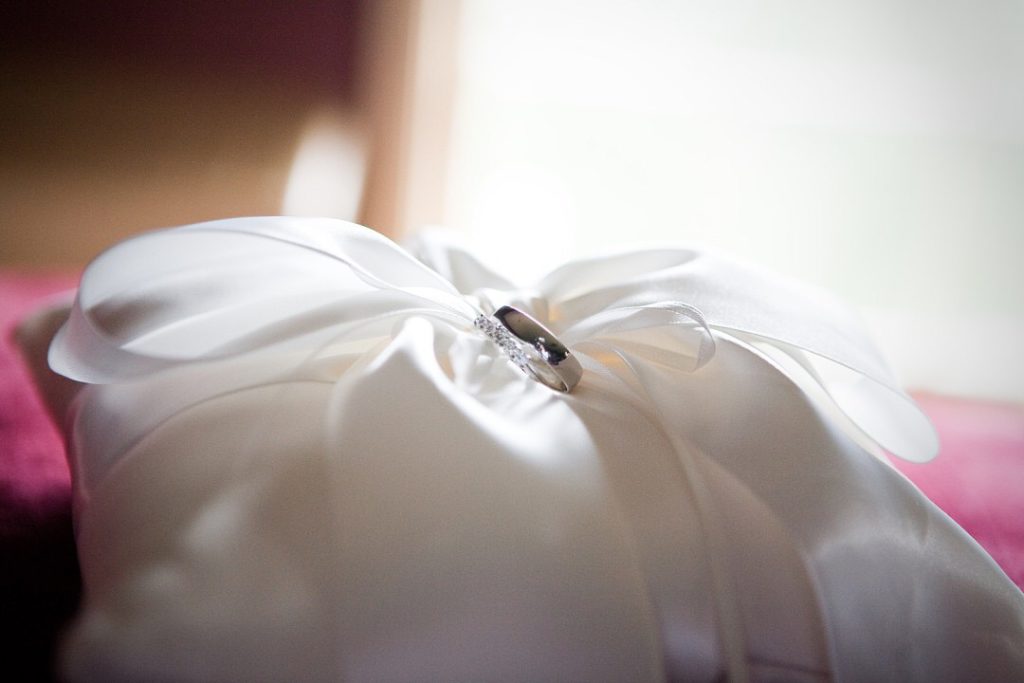 My bouquet was just as gorgeous as the girls flowers, and matched my fall color scheme even better than I'd imagined. I never knew that burnt orange and wine colored roses existed, but apparently they do. I couldn't have been more pleased.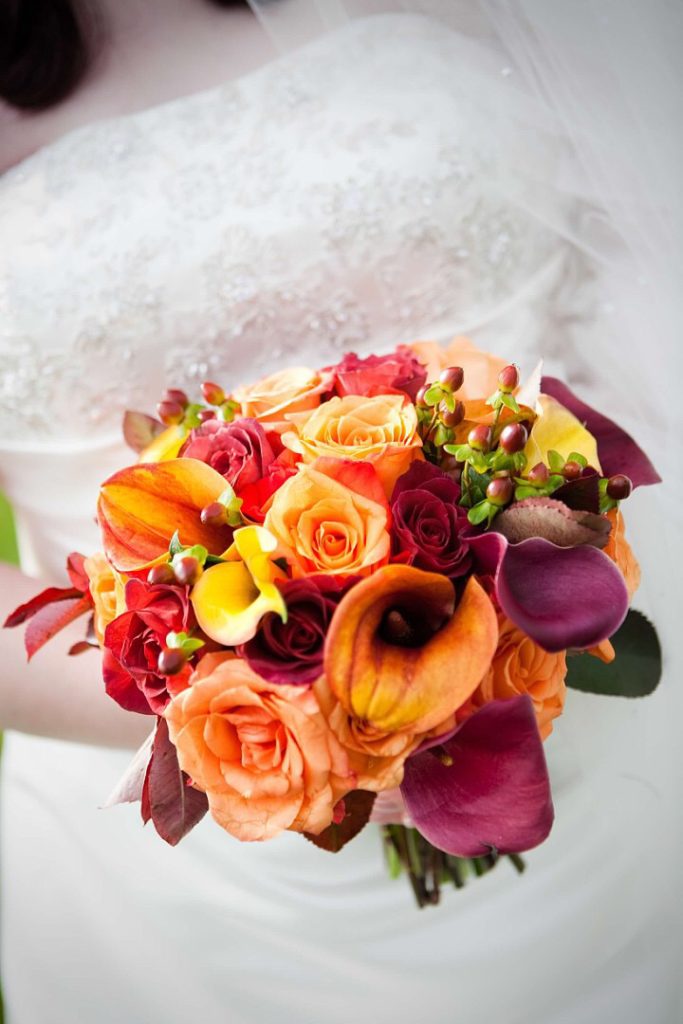 My mom and sister helped me get dressed that day. I was a ball of nerves. My anxiety was through the roof. I was so nervous, which seemed strange since there were only 15 people attending our wedding…and they were the people we see the most in our lives, day in and day out.
But, the seriousness of the day hit me like a ton of bricks. It was crazy to me, how after 10 years of being his girlfriend, my status was about to change. I was about to say vows that would bind us together forever. It suddenly felt extremely permanent….so scary…so life altering…but, I was ready.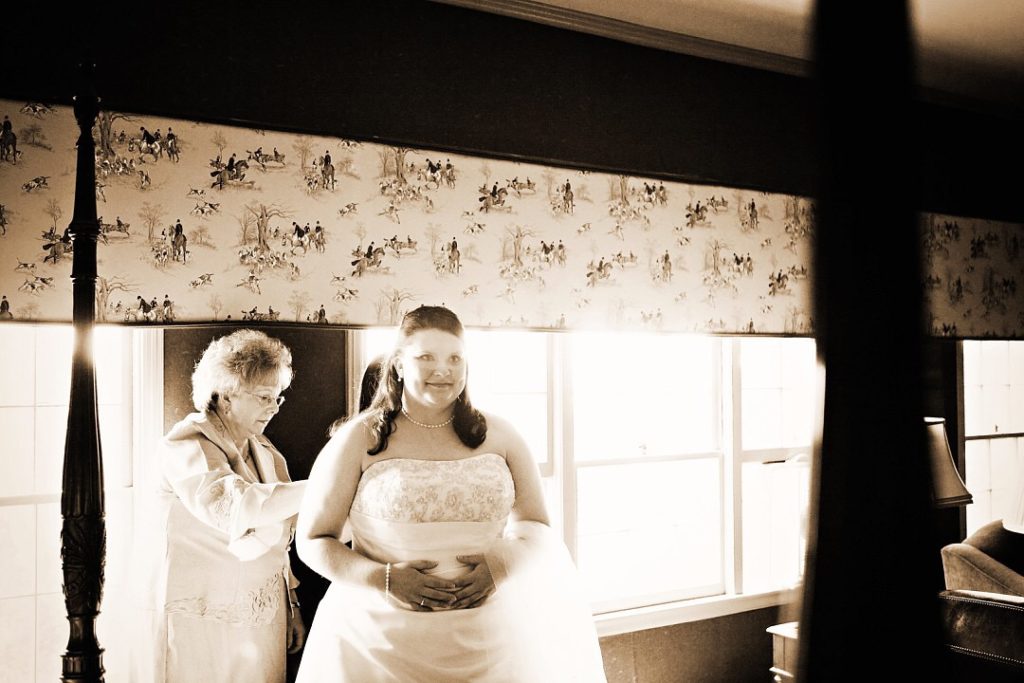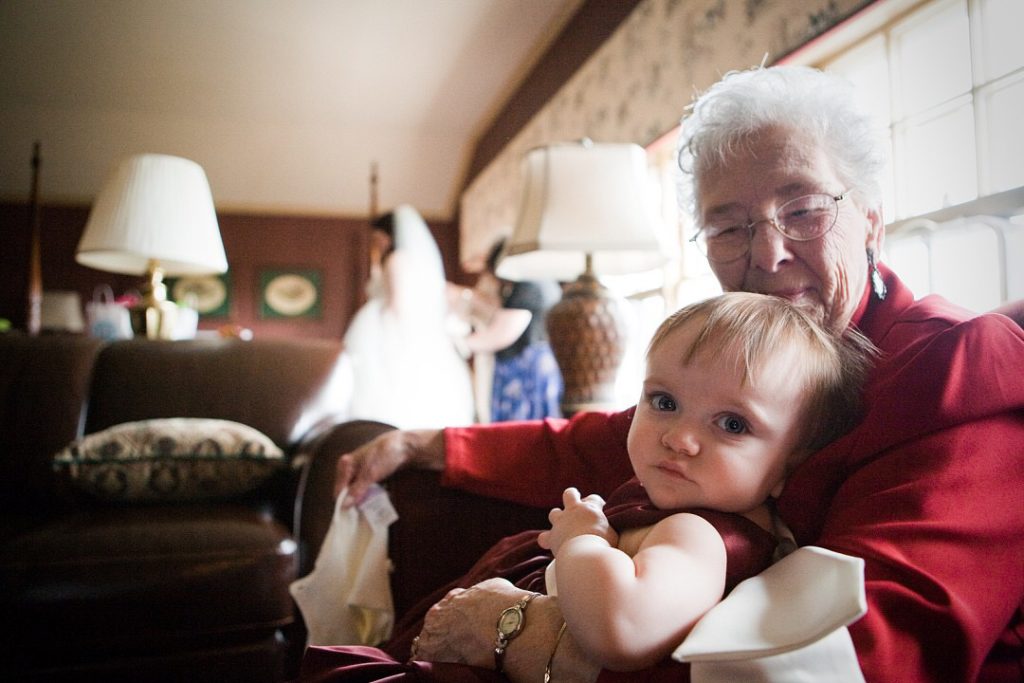 Our Miniature Sized Adorably Cute Flower Girls & Ring Bearer
Our little wedding party consisted of our nephew, Benjamin, and two nieces, Natalie & Brianna. Ben was too stinkin' cute in his little tux, and took his job as "Ring Security" very seriously! And, the girls looked adorable in their burgundy wine colored dresses, flower wreaths and ribbons in their hair.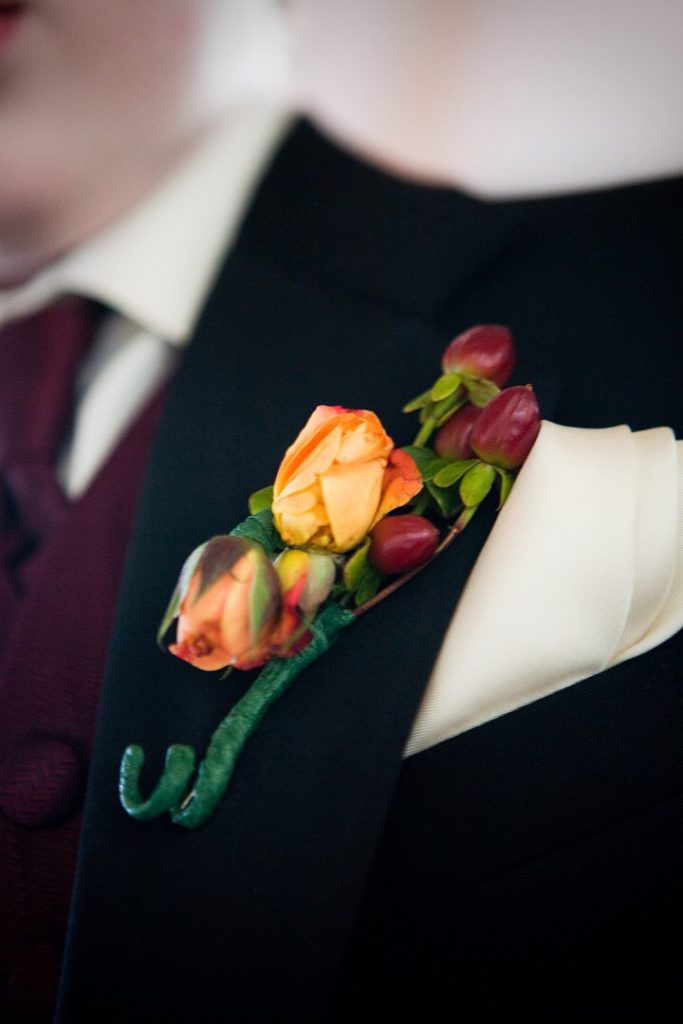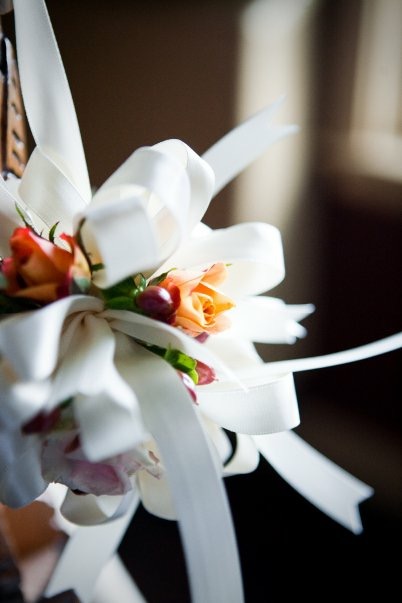 (OK….seriously…are they not the most adorable miniature wedding party of all time??!! Eeeekkk!! They're growing up way too fast!! Ok that's enough….back to the story…)
Our Wedding Ceremony in a Lakeside Gazebo
As I walked down the aisle to my groom (notice the veil about to trip me!), I remember hearing the beautiful harpist playing "Canon In D"; I remember walking towards the beautiful setting and seeing my groom; I remember bicyclists stopping to watch; & I remember there being a chill in the air and the sound of waves crashing on the shore. I remember feeling like it was the most beautiful wedding I had ever seen, which is what every bride hopes to feel on her wedding day.
The minister spoke as if he'd known us our whole lives. He quoted verses from I Corinthians 13,
"Love is Patient. Love is Kind. Love does not envy; is not boastful; is not conceited; does not act improperly; is not selfish; is not provoked; does not keep a record of wrongs; finds no joy in unrighteousness; but rejoices in the truth; bears all things, believes all things, hopes all things, endures all things. Love never ends." I Corinthians 13: 4-8
I cried during my vows and rolled my eyes when I vowed to listen to him…which the minister then had me repeat. And Adam cracked jokes, and made everyone laugh…which broke the nerves.
It was perfect. He pronounced us "Husband & Wife"…we shared our first married kiss…and then we were off to face the world together.
We took family pictures as our harpist continued to play. It was absolutely gorgeous. We took photos in the Adirondack chairs in the lawn at Mission Point…which proved to be very difficult to get in and out of in a wedding dress. We signed our marriage certificate before our minister set off on his bicycle for home.
A Carriage Ride with Onyx & Midnight
Our wedding carriage arrived to escort us around the island for wedding pictures. Our hour long carriage ride was probably my favorite part of our wedding day. It was so relaxing & peaceful.
Other visitors to the island took photos of us, and congratulated us. I felt like royalty as we strolled down Main Street. We even stopped for coffee at Starbucks. It wouldn't be my wedding day without Starbucks, right?
Fellow coffee drinkers asked if I needed a warm up since I was in a strapless gown and it was a brisk 60 degrees outside. Another caffeine addict asked if we were at Starbucks to "trash the dress"?! I remember thinking, "what does she think I'm going to do…roll around in a pile of coffee grounds??!! Hysterical…but, really that might be amazing!"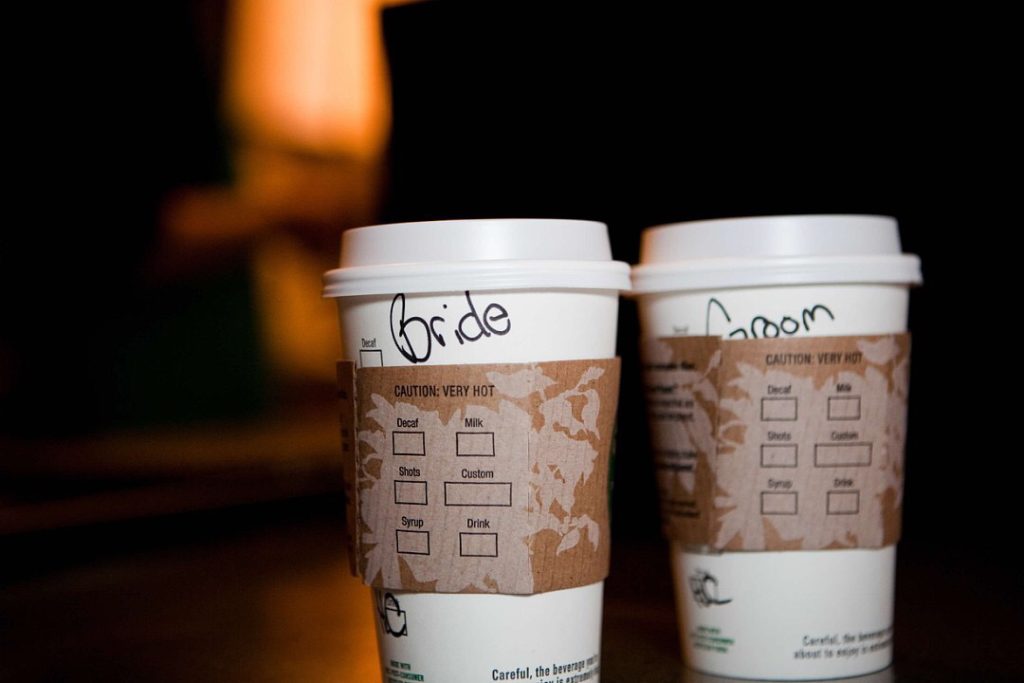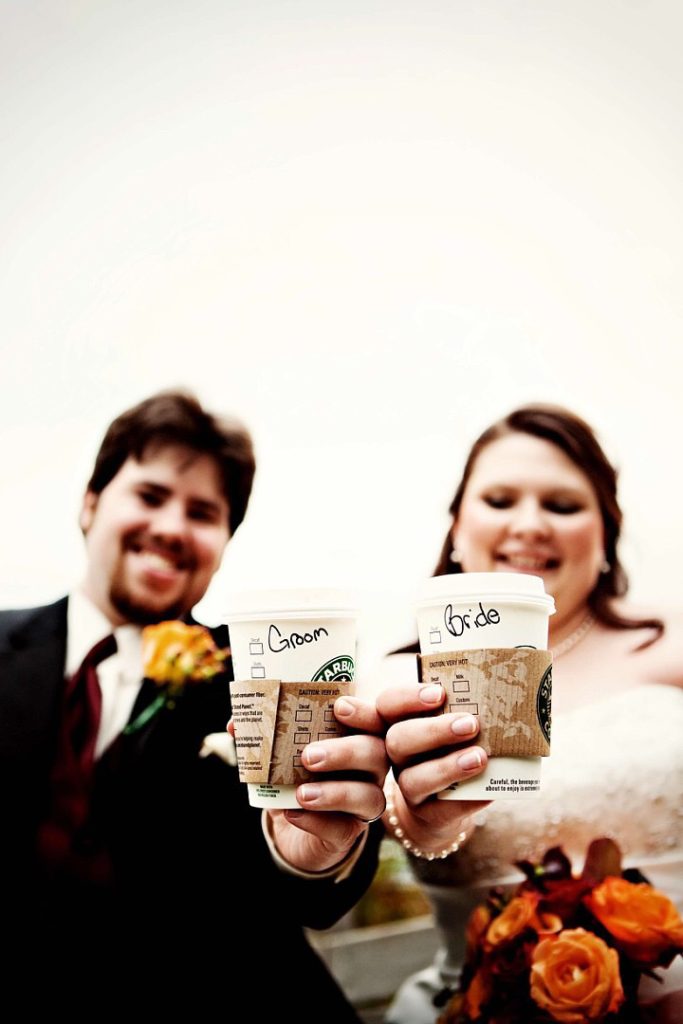 In all honesty, it was a miracle I didn't "trash the dress" getting in and out of a carriage while holding a mocha in one hand, a bouquet of flowers in the other, all while trying to contain my out of control veil! Thank goodness my new hubby was a good helper! Gheesh!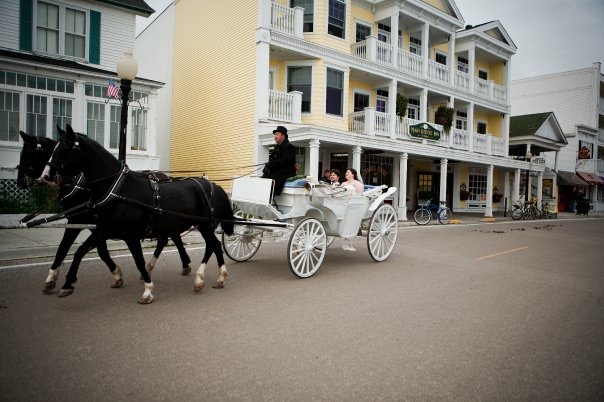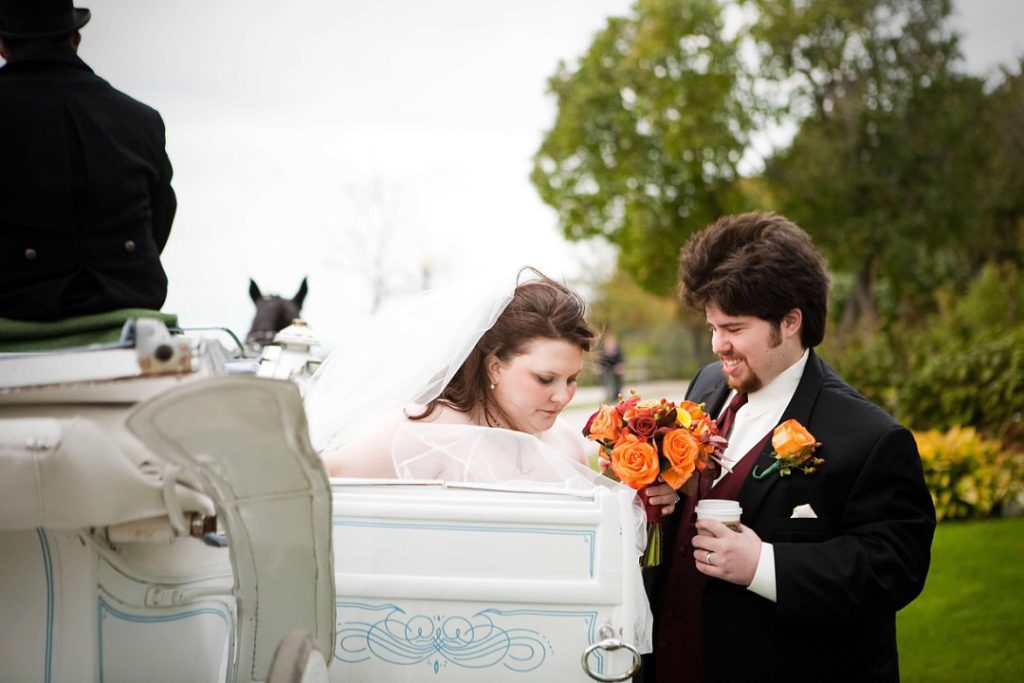 Our carriage driver, and 2 black horses named Onyx & Midnight, drove us around the island, past The Grand Hotel, & up to the East Bluff, before dropping us back off at Mission Point Resort for our reception.
Our beyond incredible photographer, Andrejka, followed along on her bicycle, taking photos of our carriage ride all while keeping her balance on a bike…I can't even imagine how difficult that is!
She took amazing photos of us, and captured so many memories. I couldn't believe how gorgeous the photos were of our entire day! And, she pushed us out of our No PDA (public displays of affection) way of life by making us kiss in Starbucks; dip and kiss on Main Street; & lounge and cuddle on walls…all in the name of awesome wedding photos! And, for that we are continually grateful!
Our Reception in the Summit Room
Our carriage ride & photo shoot came to an end, and it was time to join our family for our reception. Mission Point Resort allowed us to pick our reception space when we arrived to the island. We chose a room that had 180′ panoramic views of Lake Huron including the gazebo and front lawn where we had just had our ceremony, Round Island lighthouse, and even the bay where the ferries come and go. It was a gorgeous space!
I surprised my groom with a chocolate wedding cake with raspberry buttercream…his favorite flavors. And, our baker surprised us both by adorning our cake with a tiny sugar ladybug for good luck. Our little flower girl, Natalie couldn't wait to get a bite of cake…so we shared with her to!
We shared a toast with our family and then enjoyed an unforgettable meal. Our menu was amazing…Michigan Salad; Lobster Bisque Soup; Michigan White Fish & Filet Mignon with vegetables & mashed potatoes; and finally wedding cake. It was a feast fit for foodies!
When our wedding day had come to an end, we retreated to our bridal suite for the night, and found some Faygo glass bottled pop, chocolate covered strawberries, and a note congratulating us on our wedding from the staff at Mission Point Resort. It was the first time I'd ever seen Mr. & Mrs. Wilson written…and it was so exciting to finally be his Mrs!
The next day, we explored more of the island with our families, and took the last possible ferry to the mainland. We didn't want to leave.
I highly recommend a destination wedding. It was so much fun, relatively easy to plan, & left us with countless memories.
Wedding Day Bloopers
Between the windy feezingness of our day; to attempting family pictures during a 2 year olds nap time; and a veil that had a mind of its own…we definitely had wedding day bloopers! Enjoy!
I've had a lot of fun reliving our big day and telling you our story. Hope you enjoyed it. And, if you've never visited Mackinac Island, plan a trip soon! It will quite literally take your breath away! Thanks again for visiting!
Our Mackinac Island Vendors