This story of our rainbow baby was supposed to go a different way. We were supposed to share the joy with you all of a miracle surprise pregnancy, a first ultrasound photo, a heartbeat, and the news that we'd made it farther in this pregnancy than we ever had before. We'd hoped to share our elation and joy with you all.But instead, just weeks into our new life as parents, we were thrust into grief and despair as we had to say goodbye once again and experience a miscarriage for the second time.
Each and every day, over the past few weeks, we have grinned and smiled, carried on as though nothing happened, and lived life as normally as we could despite fighting an internal battle of pain like we've never felt.
Unfortunately, this is so very true for countless couples who silently grieve the pain and loss of a little life so few knew. A little life, that though was only here for a short time, brought so much hope, relief, and faith. The feeling of "we're parents", the rejoicing, the planning, and the anticipation that's suddenly gone and leaves a gaping void that simply can't be filled. Life goes on around us, while we feel stuck in a story that has ended, that we so desperately wanted to write, to live, to experience. But, there are no more chapters to fill.
I've fought with myself over the past few weeks about whether or not to share this story and explain the pain of a second miscarriage. But, I wanted to honor the life we lost since we loved him/her so much, as did our family and friends, so that this baby is not a forgotten piece of our history. And, I wanted to share our story to help other grieving parents who feel lost and alone going through infertility and miscarriage as well.
But, sometimes it is difficult to be so raw and open, especially since this was a deeply traumatic time for us. But, as devastating as it was, this pregnancy also holds so much hope for us and other hopeful parents. So, here is the story of our rainbow baby & second angel…
A Complete Surprise
I remember the day like it was yesterday. I had just had the privilege of taking care of my friend at the hospital who had had her third baby. I'd taken care of her after all of her baby's births, and got to send her sweet little family home from the hospital that day.
I went back to the nurse's station to chart that afternoon, and it seemed like no amount of coffee could keep me from dozing off at the computer. I remember thinking that was strange, and determined I was probably getting sick or something. I had some cheap pregnancy tests from Amazon at home and thought maybe it'd be good idea just to check and see, since it had been a while since my last cycle. (sorry if that's TMI)
When I got home from the hospital, I quickly took a test and left it sitting on the counter while I got into some comfy clothes. Adam was on his way home and I knew we'd be heading out to get dinner. I assumed I would take a quick glance at the test, see it was negative, experience that same feeling of dread and disappointment that inevitably always happens, and start my period the next day.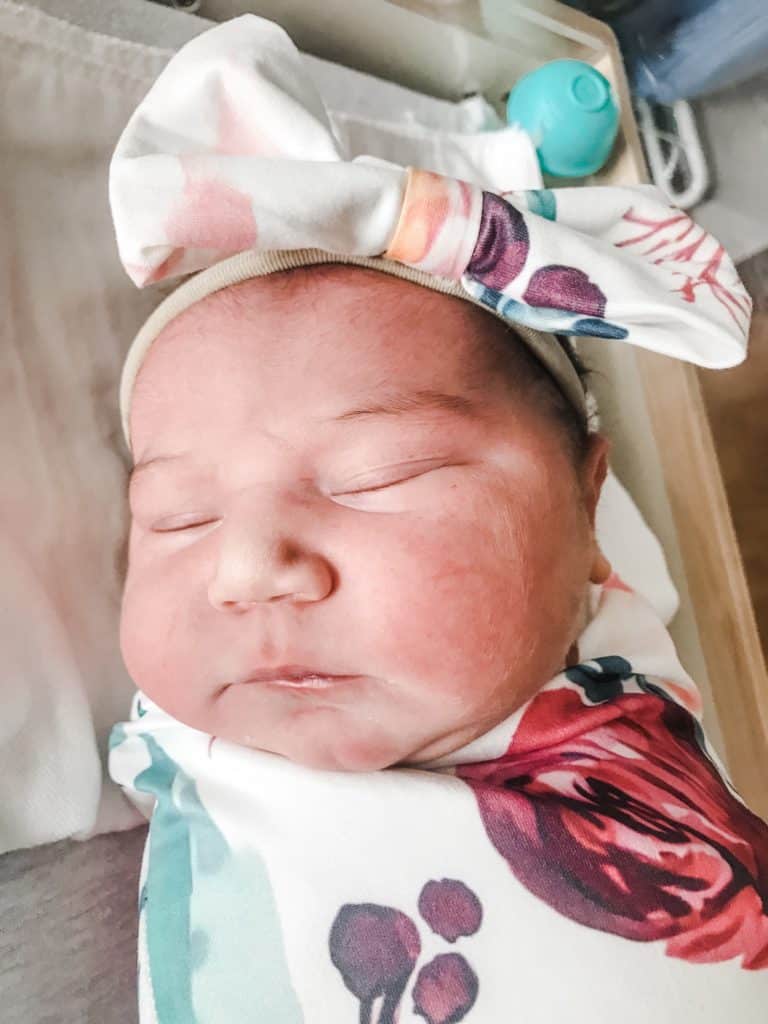 Instead, this time I looked down and saw 2 very very dark lines. I read and re-read the instructions again just to make sure my eyes weren't deceiving me. I had always hoped and prayed for a moment like this….finally getting a positive test, kind of on a whim.
After years and years of trying, peeing on ovulations sticks, buying fancy monitors, going to doctors and acupuncture, having labs drawn every other day, and on and on….I never thought this moment would happen. And, yet here I was.
Adam walked in the door just about the time that this new reality was starting to set in, and there was no cutesy way of telling him. There was no onesie announcing "daddy" on it or video tapes rolling to catch his reaction. I could hardly get him in the bathroom fast enough to see the now 4 tests I'd taken. (I apparently really had to pee!)
We swiftly went to dinner…because, duh, I was STARVING and I was craving the Brussel sprouts from Smash Burger of all things…and then we went to Target and every pharmacy around to gather up as many brands of pregnancy tests there are. I took them all. There were lines galore and fancy digital screens announcing "pregnant" scattered all around our bathroom vanity.
We were so surprised and happy and scared and terrified all at once. We were starting our new adventure as parents. We felt as though this was our time. All those prayers had paid off. They were finally answered. We were going to have a baby!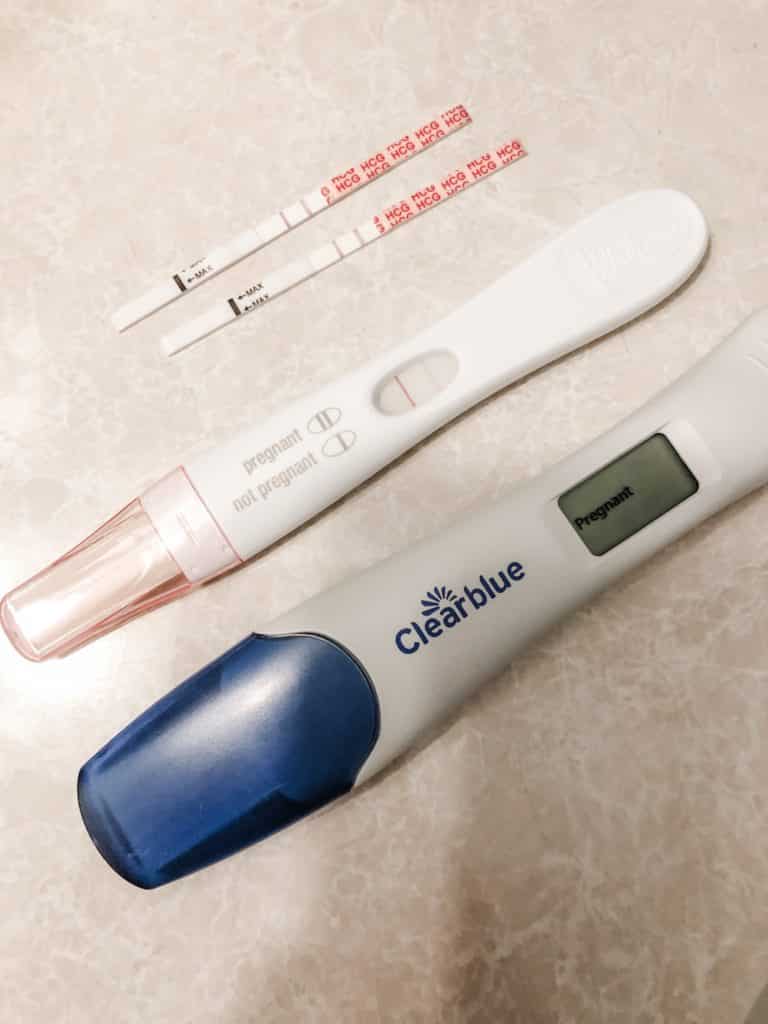 Telling Friends & Family
We had recently fallen in love with a Bernese Mountain dog at the pet store. We even named him Griffin. We were toying around with the idea of bringing him home with us, and even went back to the store a few times to visit him and play. I had even sent pictures and videos of him to my sister.
We thought getting a puppy would be a fun and meaningful way to grow our family and celebrate our 10th wedding anniversary that was coming up. Plus, he took one look at me with those big brown eyes and I was in love….mush like what happened with Adam!
So, when we decided to share the news with our friends and family we pretended to be announcing that Griffin was coming home with us. Instead Adam said, "You know how we were going to get that dog? Well, it's a good thing we didn't. Steph's pregnant."
There were tears and praises and hugs. Our nieces and nephews I think were a little sad that we weren't getting that puppy (and, yet, we still might! wink! wink!). I'll never forget my 96 year old gramma saying, "you two will make the best parents". I was so excited to share this news with her especially.
This baby brought so much hope and joy to our entire family, not just us. Finally, my mother-in-law would be a grandmother, my sister would be an aunt, and our nieces and nephews would have a new baby cousin to babysit. (Yay for free babysitting! Just kidding, I'm sure we'd pay them something!) This baby was loved from day one. And then the planning began…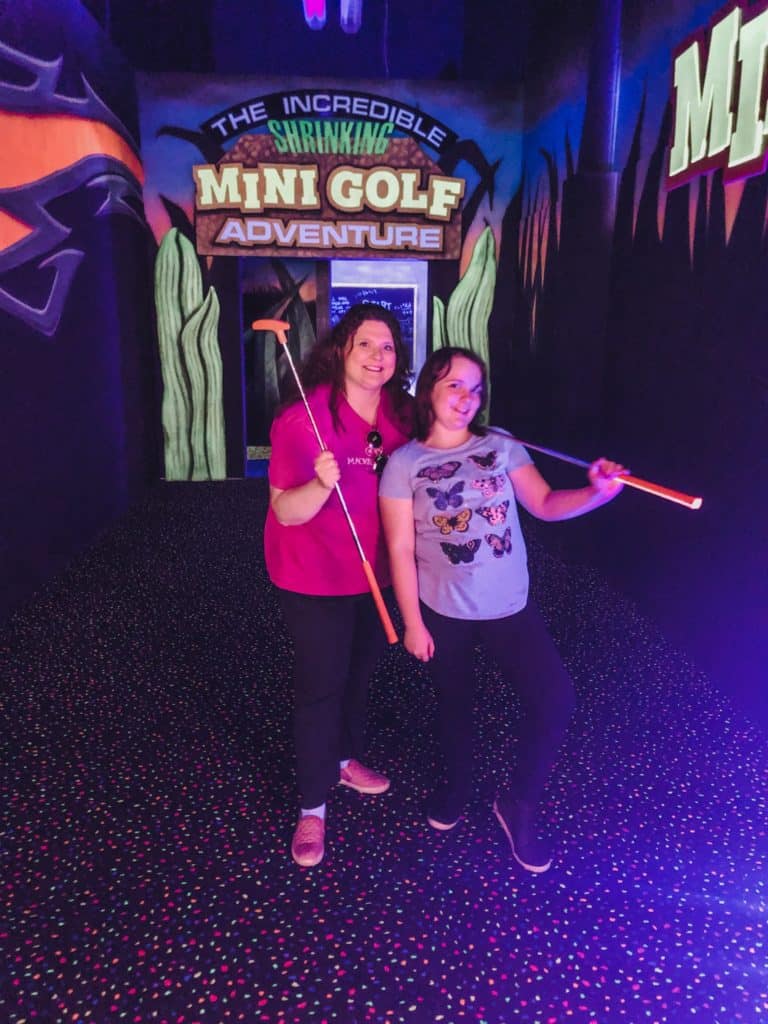 Let The Planning Begin
It had been 4 years since our last miscarriage, but yet the sting was still there. I couldn't help but tell my friends and family and even a few co-workers (since they are like family to me also). My doctors were cautious and checking my pregnancy progress every week with lab work and appointments. And, even though everything was "looking good", I still tried to hang low and not get my hopes up. I secretly was terrified. But, my husband was filled with energy and optimism.
I'm a planner at heart, and even though I was guarding my spirit, my mind couldn't settle down. In between napping and eating and napping again, I designed our baby's nursery (for either gender) and even started a baby registry. I had that stuff planned out in a matter of days. After all, I've had years to think about and plan our child's entire life via Pinterest. We couldn't wait to begin the preparations, and find out what we were having.
He started cleaning out the nursery while I sat in the corner where we'd planned to put a rocking chair. Our nursery looked more like a storage unit and needed some major organization. But, don't worry. He wouldn't let me lift a thing. He worked like a busy bee while I "helped" from the corner and sorted through the small things.
Honestly, I really just sat there imaging the crib against the one wall, and a little tea table in the bay window. I imagined the closet filled with baby clothes, and sorted through nursery themes on Pinterest. Finally this empty room would serve a purpose that I had dreamt for it from the moment we toured our house 9 years ago. I couldn't wait to hear crying and cooing echoing in these walls.
Learning To Trust & Relax
During those few short weeks, I think I googled more than I have in my entire life. I lived on my favorite pregnancy apps and googled whether each pain or twinge or new symptom was normal or a sign of impending doom.
You see, pregnancy loss & miscarriage steals so much from future pregnancies. I knew all too well that this could all be over in a matter of moments, but as the days and weeks passed, thankfully, I began to relax a bit more.
I lived on short little goal lists and focused on one step, one week, one lab test at a time. I relied a lot on the prayers and positivity of the friends and family that knew. It's the only way I could cope with a pregnancy after a loss without being in a constant state of panic.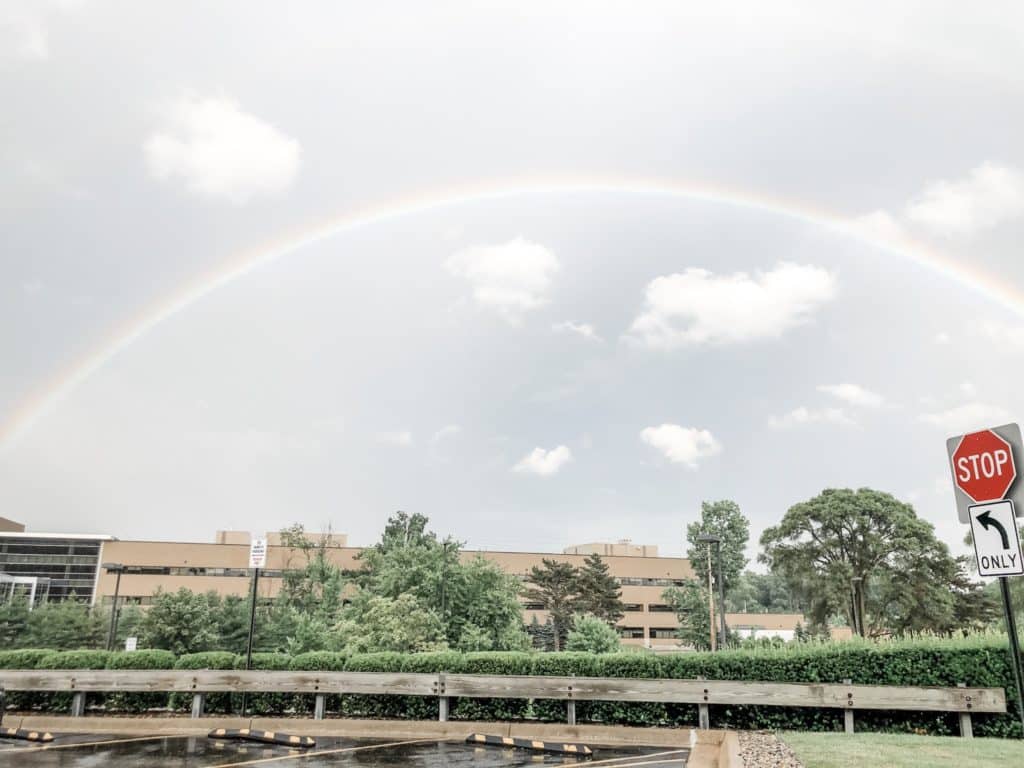 Bring On The Lab Draws and Doctor's Appointments
Our first pregnancy that ended at 6 weeks, was brought on by injections and science. You can read about our 1st Angel here. I knew the second my follicles were big enough for my trigger shot. I knew the day that I ovulated. I had ultrasounds and lab work every other day for months.
Every single second of that pregnancy was documented, so as you can imagine, getting pregnant on our own was a complete surprise. I wished for this after so much poking and prodding the first time around, but then quickly realized I missed knowing every single detail about my pregnancy.
My doctors were cautiously optimistic and did routine lab work for the first few weeks just to make sure the pregnancy was progressing and to perhaps help with knowing how far along I was. Everything was looking good, so we scheduled our first ultrasound so we could narrow down exactly when we were due…& finally find out when this glorious miracle happened.
Our First Ultrasound
The day of our first ultrasound we were pretty excited. Everything so far was working out perfectly. I hadn't made it this far the first time, I was experiencing lots of pregnancy symptoms, and we were ready to see our little one.
I was particularly anxious to find out how far along I was. I couldn't wait to tell the world, but wanted to make sure we were in "the safe zone". According to my last cycle, I would've been due on 2/20/2020. We couldn't of planned that if we tried.
According to those dates, I was 10 weeks and 1 day at our first ultrasound, but we couldn't wait to find out if that was accurate or not. We had a feeling we got pregnant in June after our trip to Mackinac Island for the Lilac Festival. But, we weren't exactly sure.
My sweet doctor came in to do the ultrasound (I loved my new group of OB/GYNS), and to make along story short, she basically struggled to even find my uterus. Panic began to creep in. I felt as though I was reliving 4 years ago when the doctor during our first pregnancy couldn't find my uterus either. We made jokes and friendly banter while she searched for our baby, but inside I was dying.
Finally we got a quick glimpse of our baby. He/She was just sitting there in my uterus, looking all happy and cozy. I instantly fell in love. We only got a glimpse for a second before the doctor "lost" my uterus again. But, we saw him/her. There was an actual living being in there. I even heard a heartbeat coming from the ultrasound machine. It was an absolute miracle.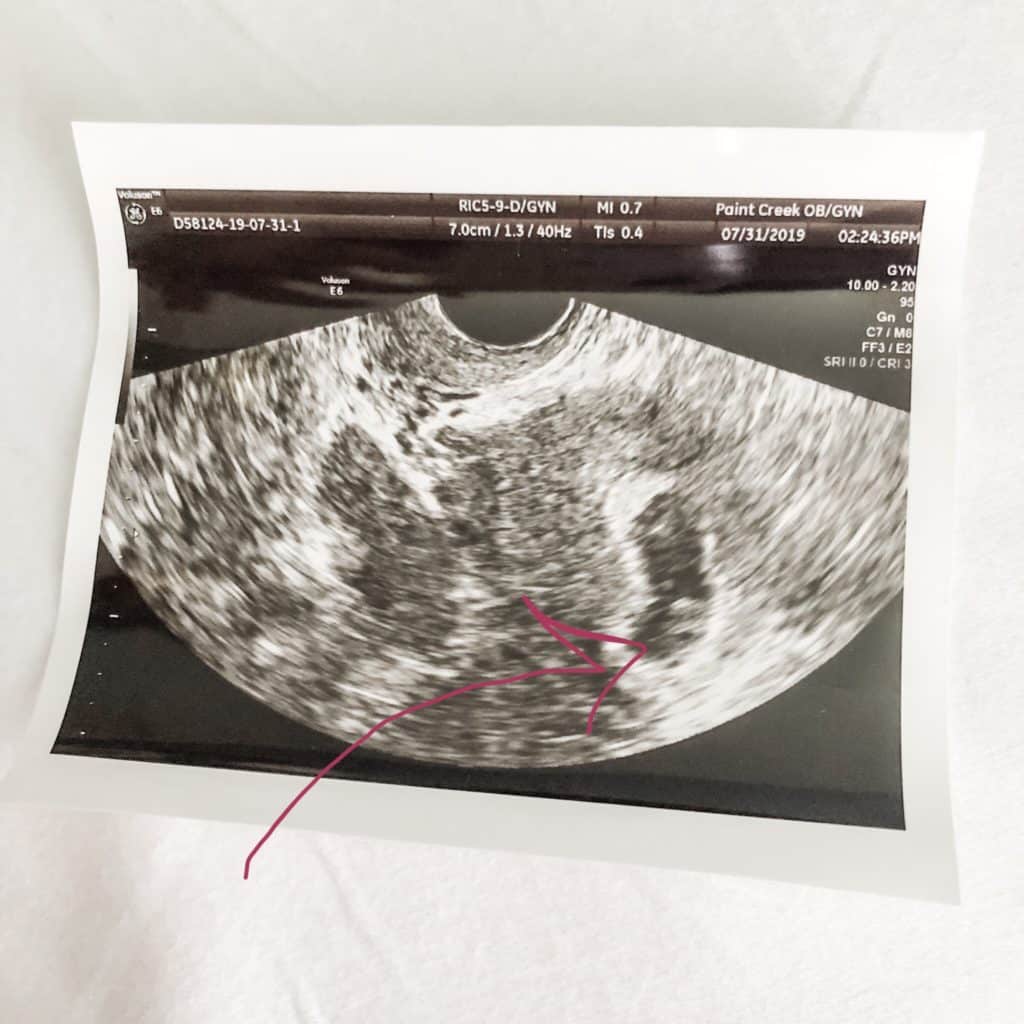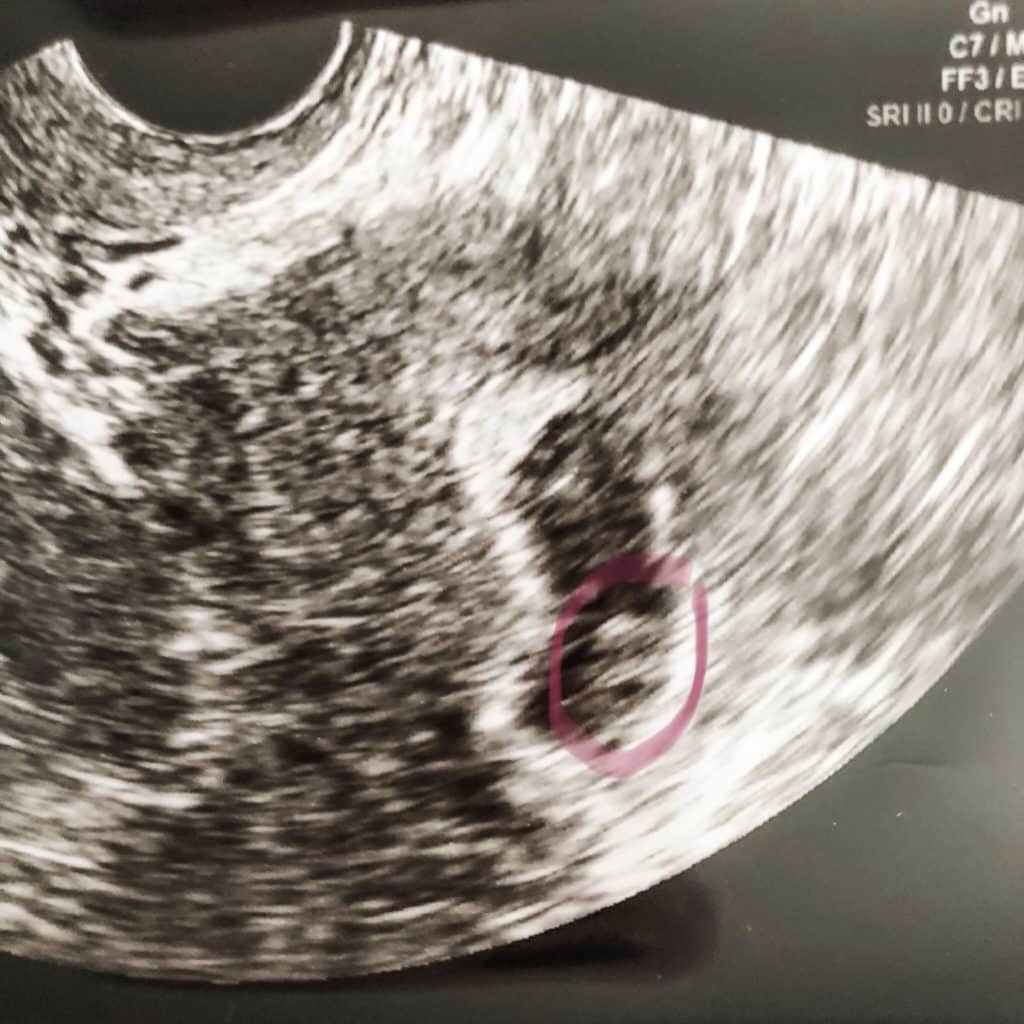 It wasn't a perfect experience, but our doctor reassured us that it might have been hard to see everything because I wasn't as far along as we thought. She sent me for more blood work and set up an appointment for me to come back in a week for another ultrasound when their technician would be in the office.
I could barely choke back the tears as I waited for the lab tech to come in the room. I couldn't tell if what I was feeling was disappointment that we weren't 10 weeks along, or worry that something wasn't right, or elation over just falling in love with a tiny blob on a screen. My emotions were all over the place, and as soon as I got in the car I lost it.
Adam calmed my fears and worries. We went out for a nice dinner and then to the zoo where we had our first date and where he proposed. It has a special way of relaxing us when we're feeling overwhelmed. We rode the zoo train and watched the giraffes and got ice cream on the way home. We talked about how we couldn't wait to take our baby to the zoo and introduce him/her to Erma's frozen custard.
This was the last night of bliss before the rug was pulled out from under us once again. Little did we know that the next morning our whole world would change.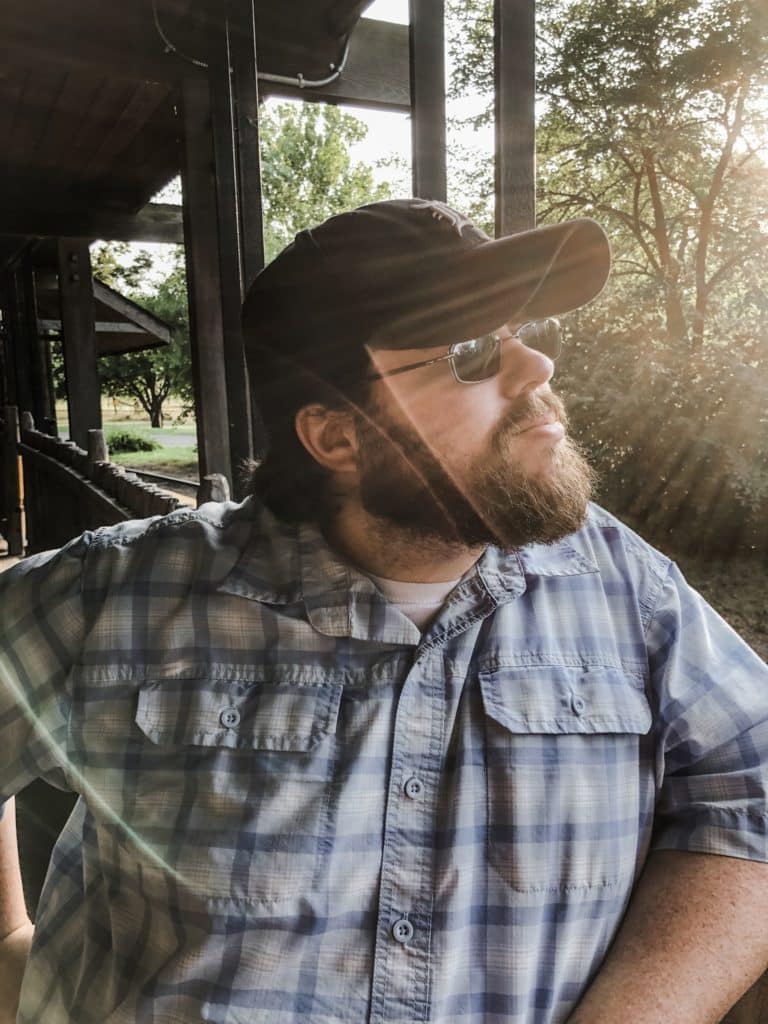 The Day Our World Ended
The next day started just like any other. I headed into work (I am a Mother-Baby Nurse), got my decaf caramel macchiato (so my co-workers didn't suspect anything), and got report on my patients. Once I finished my morning tasks, I snuck off into an empty patient's room to check my lab work that was drawn the day before.
I was faced with the all to familiar wave of nausea and anxiousness I'd experienced before every doctor appointment, lab result, etc this pregnancy. I took a deep breath and clicked on the result and told myself everything was going to fine.
Unfortunately, my worst fears were confirmed on that screen.
My Hcg (pregnancy hormone), that the doctors hope to see double or at least rise, had in fact dropped. I knew in that instant that we were going to once again lose a baby. My pregnancy was slowly coming to an end. That little being we'd seen on the screen the day before was never going to grow into a full-term, living, breathing little boy or girl.
That next hour or two was a blur. I'd go back to nurse's station to do some work tasks, and then head right back to the most private bathroom I could find to cry and hyperventilate…just praying that my work phone didn't ring with a patient or fellow nurse needing help.
Coming To Terms With Another Miscarriage
I had planned to kind of "tough it out" that day, and then let my manager know what was happening before leaving work. I still felt very pregnant. My symptoms hadn't decreased. I felt as though this was just one big nightmare.
I went in to help one of my families dress their baby, and that's when I about lost it. They'd packed a cute little onesie with rose gold snaps of all things, and asked me to teach them how to swaddle their baby girl in the same Copper Pearl baby blanket I'd just added to our registry just in case we too were having a little girl. I kindly obliged, asked them if they needed anything else. They thanked me, and I booked it out of there.
Hardly holding back the tears, I went straight into my manager's office. As per the usual, I was met with kindness and understanding. I seriously work with the best nurses/team on earth.
I hate to cry in front of people, and wasn't even sure what to tell my co-workers as I left that morning. I don't think I've ever walked so fast to my car. All I wanted to do was get home. I wanted to be in a safe place where I could cry and scream, mourn and grieve.
I think Adam knew what was happening the second I walked in the house 10 hours before my shift was supposed to be over. This feeling was all too familiar, but stung so much harder than before. It felt like a really sick joke.
My doctor called to confirm our worst nightmare. Then, I began the awful task of telling our friends and family. There are literally no words to describe the depth of sadness that pregnancy loss and miscarriage brings. It is lonely and dark.
The Week Of Waiting
We opted to let my body "handle it naturally" (love those words) rather than having a D&C. Perhaps it was because we were still holding on to a smallest of hopes that the labs were wrong…that our baby was just fine and growing like a weed in there. Or, perhaps we decided this way so we had a little bit longer with our baby before having to say goodbye.
We spent that week binge watching TV, barely getting out of our pajamas, and ordering in our favorite foods. We spent every waking second together. We cried, we grieved, and then we tried to escape our current situation with super hero's and handmaids.
It took my body a week. And then we met our baby.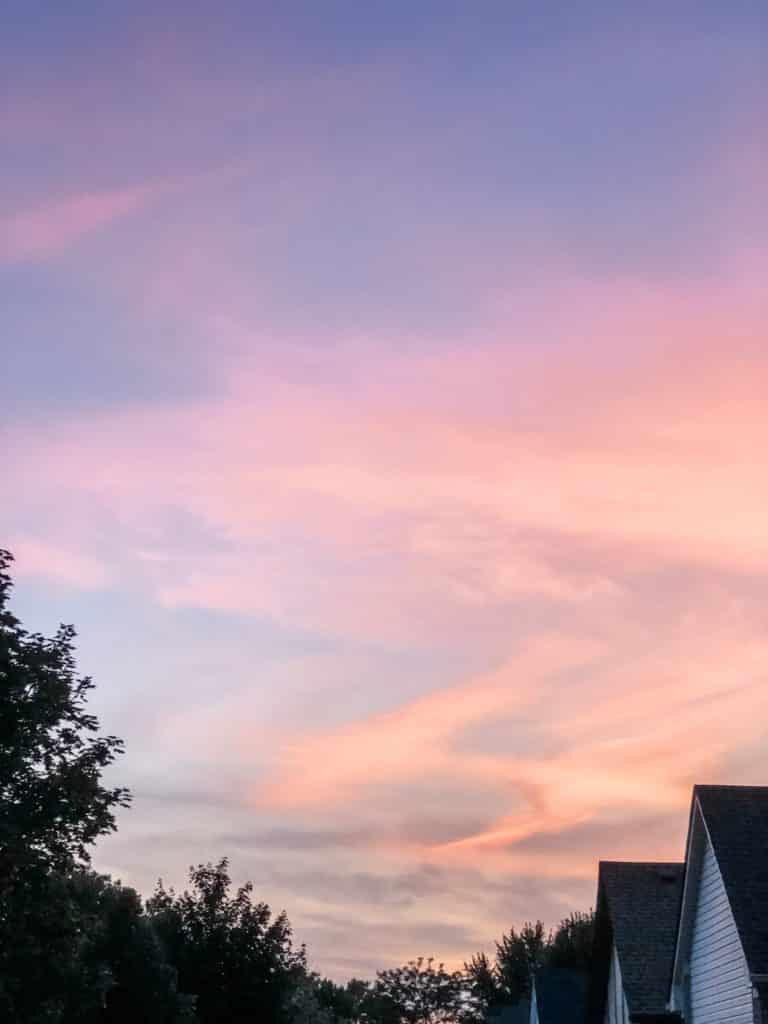 The Night We Met Our Baby
I'm sharing this story because I so desperately want the world to know and recognize this baby because he/she meant so much to us and brought so much hope to our family. But, also because I hope hearing this story will help other couples going through a pregnancy loss/miscarriage.
Perhaps in another post I will get into more detail of exactly what happened on this night, but since I know this may trigger some of you that have been through similar situations, I'll spare the details.

What I would like everyone to know, though, is that when a couple goes through a miscarriage it can be one of the scariest and most traumatic experiences of their life. Your body still has to go through quite a process to bring the baby (no matter how big or small) into the world.
Not only is it emotional, but it is also physically exhausting. I felt as though I gave birth that night even though our baby was tiny. It involved several hours of severe pain, many discussions of whether or not to go to the hospital, lots of confusion, and once again googling everything under the sun.
In one breath I was incredibly proud of what my body did. It grew and developed that little being, and yet knew exactly how to keep me safe and out of danger even as everything was ending. But, then again, I was also mad at my body for not holding on to this pregnancy, for not giving us what we so desperately wanted…a healthy baby.
I think the night we met our baby will forever be etched in my mind. The memory of it still stings, but I hope that as time goes on, we get clarity and see how that baby served a bigger purpose for us and our family.
Coping With Grief & Loss After A Miscarriage
Women that go through a miscarriage need time to heal and process. Basically, in one night you become a mother, have to say goodbye, and then are expected to jump back into normal life the next day. We need time. That's why I'm so thankful that we have things like Pregnancy and Infant Loss Awareness Month so we can educate about what this loss really does to us.
And, lets not forget about the dad's, the grandma's, the aunts, uncles, cousins, and friends that are also mourning. Adam stayed strong for me during that night of intense physical pain, but then has begun his own process of grieving and coming to terms with what happened. Men process these things differently, and we need to be mindful of their pain as well.
Having been through this before, I know that for me there are certain times of year and certain situations that make my grief heavier. The effects of miscarriage live on for years to come as the due date, birthdays, holidays, and milestones go by.
We are so, so hopeful after this pregnancy, though, that we can get pregnant on our own, and we're praying that it happens again for us. We are working closely with our doctor to monitor things and try some new recommendations so that the next time (we're claiming it) ends with a bouncing, beautiful baby (or babies! Adam's praying for triplets! Yikes!).
We ask for your prayers for us as we face these days and weeks ahead without our growing baby, and hope you'll join us in praying for God's perfect will in growing our family however He sees fit.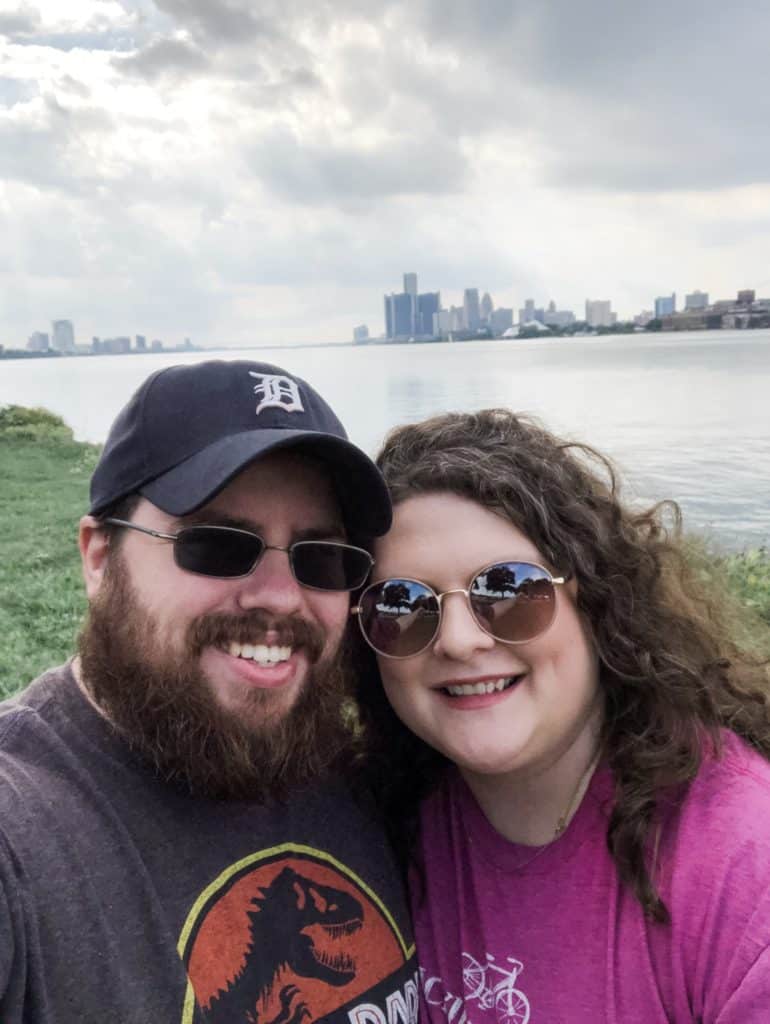 For Family & Friends Of A Couple Experiencing A Miscarriage
You may be wondering how you can help a couple that is currently going through a pregnancy loss. First and foremost, just be a listening ear. Reach out to them, bring them dinner, or drop off a treat. Give them some space and time to process and grieve.
For instance, my mom brought over flowers and a card, as well as some candy and popcorn since she knew we were binge-watching some TV shows as we healed. This was a super sweet gesture, and we loved snacking on all the Swedish Fish and Sanders chocolates while we rested.
Other friends and family reached out on Facebook or sent a quick text. It seemed like those kind messages came just at the right time, too. So, don't be afraid to just send a quick, "thinking about you" or "love you". They mean so, so much to a grieving couple.
If you are looking for a thoughtful gift to send a couple, I'd suggest the specially curated gift boxes by Lullaby of Hope. One of my sweet friends sent me this box and completely surprised me. I think I stood at the kitchen counter crying for an hour as I poured over the contents of the box. Included inside was a letter from another mom that experienced loss, which made me feel not so alone, along with hormone-balancing tea, a devotional book about grief, some special momentos for mom and dad, and more.
For Couples Going Through A Miscarriage
Now, having 2 angel babies in Heaven, God and Heaven seems so real and close to me, and we hold onto the hope that we will meet our 2 sweeties one day. But, until then, they'll enjoy lullabies sung by angels and play with each other on streets of gold surrounded by love and grace.
If you too are experiencing loss, please know that you are not alone. It can be a dark and lonely season in your life, but there is hope and joy in time. Allow yourself time to process and grieve. Eventually, the days get easier and you will laugh again. It just takes time.
Some resources I've found helpful are The Joyful Morning, a blog all about Infant & Pregnancy Loss, that includes a podcast specifically for couples who've experienced loss. And, Hello Warrior, which is another blog written by, Arden, a mama who's gone through 2 miscarriages and is currently experiencing her third and most successful pregnancy. Both of these ladies have turned the pain of their grief into a purpose. I admire them so much!
If you ever need to talk or have any questions about miscarraige, please feel free to reach out to me. You can email me privately at latteslilacsandlullabies@gmail.com or connect with me in the comments section below.